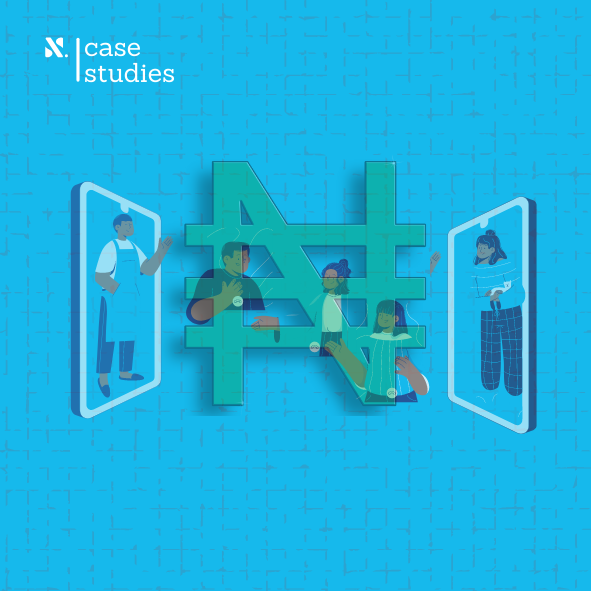 A case study on Nairaland, Nigeria's Information Ecosystem
Nairaland, arguably Africa's Number 1 online forum, has won the hearts of its over 2.5million members and 26 million visitors since it was founded in 2005.  This community created by Seun Osewa and targeted at Nigerians looking to read and chat about contemporary issues in Nigeria has observed consistency more than relevance, even as it has barely changed its mode of engagement. Alexa.com ranks Nairaland as the 806thmost visited website globally in 2020 and the 6th in Nigeria ahead of Twitter, Instagram and WhatsApp. It is the second most visited indigenous website in Nigeria (after Bet9ja).
Besides the statistics, the most important impact of Nairaland is its influence on grooming Nigeria's online information ecosystem. This is what makes it continuously relevant despite its apparent shortcomings. Nairaland has about 26.64 million visits, and the average visit duration is about 9mins 46secs; 60% of the reach is from Direct traffic, while 34% is from Search engines.
Its relevance is due to the ever-growing need to share and receive information, the increasing rate of internet penetration, and, sadly, the country's unemployment rate. As with most popular websites, you see people advertising their skills, services, or posting information regarding acing interviews or landing a job under many Nairaland threads.
A Voice of the People for the People
In 2004, 24-year-old Seun Osewa founded three online forums: one focused on Higher institutions and education discussions, another on Information Technology (IT) discussions, and the last focused on GSM communications. In 2005, Seun converted the GSM discussion platform known as Mobile Nigeria to Nairaland. Nairaland started when he noticed two things about the MobileNigeria product; first off,  it was the only Nigerian forum that gave a voice to Nigerians at home as most other Nigerian forums were owned and dominated by Nigerians in diaspora (USA or UK).
The variation in topics from the main subject of the forum hinted at the need for a general platform, as the specific issue was Telecoms, but different "matters-arising" came up. Topics outside telecoms were becoming more vibrant than the forum's main topic of discussion, suggesting the need for a more general-purpose Nigerian Forum. This gave the founder the confidence to start a general-purpose discussion forum with a strong bias towards issues of interest to Nigerians living in Nigeria.
Nairaland forum has undoubtedly grown since its inception; etymologically, it has stayed true to its name and purpose. It focuses on Nigerians living in Nigeria (though Nigerians living in the diaspora utilize it for information search a lot) and hosts conversations, contributions, and thoughts by contributors on general topics, ranging from business to politics, entertainment to sports. Within eight years of inception, Nairaland reportedly had over 16million visits from over 6million unique visitors and over 60million pageviews in the 30days of July 2013.
The Pulse of the Nation
Nairaland's primary target audience is the average Nigerian middle-class adult (above 18years); specifically, those visitors within 30-45 years are among those who grew with the platform in the absence of other platforms today like Quora Twitter, Reddit, among others. This demography is more familiar with Nairaland because it was created around the time they were adopting the internet – just like Millennials and Instagram, Twitter, and Gen Z and Snapchat, and Tik-Tok.
Like the country where it draws its name from, Nairaland has its potentials, strengths and weaknesses that have been obvious in the last 15 years of its existence.
Let's start with strengths.
Nairaland has a structure that allows users to follow sections based on their interests. This feature makes it easier to find topics that interest you rather than getting lost in the sea of what everyone is talking about, as is the case with Twitter. And this is a crucial reason for the comparison of Nairaland to Quora – an American online forum. Like Quora, where you can add basic knowledge of things you know, answer questions, and engage with other users, Nairaland allows its members to do the same. You can teach, learn, argue, engage in conversations revolving around contemporary issues without the limit of characters you can use in a post, as seen with Twitter.  This is one reason why there are so many helpful conversations on the platform, giving it the title of Nigeria's top information plug. Nairaland pulls traffic via engagement; it allows people to put up their posts, no matter the genre. It has allowed people to grow in different spheres, and these engagements can be ongoing for a long time.
The site interface is another critical feature that doubles as a strength and weakness. It has made the website as lightweight as possible, making its load time the fastest possible so that all its millions of members (Nairalanders) and daily visitors can always enjoy their time on the site despite varying internet connection speeds. However, some now see this as a weakness, as people want a change the User Interface. Nairaland is arguably the most optimized Nigerian website, accessible to any mobile phone with a browser, no matter how basic or poor the internet connectivity is, even as basic as EDGE or GPRS.
A Treasure Trove
Nairaland remains a goldmine on information for Nigerians today. Another reason why Nairaland is still relevant today is because of how inextricably linked it is to search engines and the conversations and reviews people have shared, ranging from products, services to companies and individuals. Given the relative youthful population of the country, internet accessibility, and a culture where unsolicited advice has been intricately woven into Nigerians' fabric, people flock there to get advice on a myriad of topics.
If it's not broken, don't fix it?
The site is perceived as old and insecure because no significant changes or updates have been made to the User Interface and main functionalities on the Nairaland platform since its inception in 2005. As a result of the basic UI/UX, new users and younger Nigerians (especially Gen Z) find it challenging to engage with and trust the information from the platform.
To post comments or information on Nairaland, Users need to register on the platform. During registration, they are allowed to use their pseudonyms rather than real identities. This anonymity creates confusion in the discussion thread and encourages spamming and trolling activities. Another observation is the absence of major social media functionalities that will make the platform more engaging and collaborative. For instance, the is no user profile; and thread functions like "Like" or "Love" buttons are also unavailable.
The increasing population of registered users and visitors brought traffic to the website and challenges. The population explosion brought great server demands and an increase in spam/scam posts. The site becomes inaccessible from time to time and sometimes for hours/days. Even with the challenges/weaknesses, Nairaland has found a positioning for itself as an information-gathering forum. Nairaland is a voice for Nigerians who want to hear and be heard.
Nairaland and well, the Naira
Nairaland can become a higher revenue spinner for the founder and investors than it currently is. However, the founder has maintained the platform with minor or slight changes that would generate revenue over the years. Seun (the founder) has stuck to his guns of keeping Nairaland primarily as an information plug. The forum continues to host a variety of topics from different sectors with excellent search engine optimization.
Nairaland is a platform that Social network companies and even Search engines would want to acquire due to the information and reviews the users share, the exceptionally high customer retention rates, and its popularity in the World's most populous black nation. There are rumours that the founder had refused to sell even when offers came from Google and Nairabet's Akin Alabi.
Nairaland is most times compared to Quora in terms of the operating model. However, in the real sense, it is more like Reddit. Interestingly, Nairaland was founded in March 2005, while Reddit was founded in June 2005. Both platforms are an information treasure trove though Nairaland has maintained its target audience, sticking primarily to Nigerians, unlike Reddit, which has a more international and diverse community.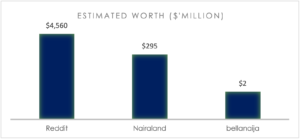 Data from worthofweb.com estimates Nairaland to be worth $295million, Reddit at $4.56billion, and another popular Nigerian site, BellaNaija, at $2,010,000. The estimated daily revenue for these platforms is $1,381,318, $55,408, and $1,238 for Reddit, Nairaland, and Bellanaija, respectively, if they generate revenue via ads and affiliate marketing.
Currently, Nairaland's primary source of revenue is advertisements. It runs a Targeted Ad Platform with which any member can place adverts on sections of Nairaland where their target market can most likely be found. For example, a political party can place an ad in the politics section, and an artist can post their ad in the Entertainment section. There are criteria your ad must meet to be approved. After approval, you will be provided with information on how to purchase advertising credits so you can freely place your ads on any section of Nairaland, including the home page. There are estimated prices on how much it'll cost to advertise on various sections of the forum; for advertisements on the Home page, it costs about 345,000 Naira per week, the Political section costs about 106,000 Naira per week, and for the moderator's section, it costs as low as 0.01 Naira per week.
Names made by Nairaland
As Nairaland is an information ecosystem, some members have become household names on the forum and social media space in Nigeria because of the depth or reach of the information they provided via Nairaland. This has helped them make money and become famous. One of such is Suraj Oyewale, a.k.a Jarus Hub. Nigeria's unemployment problem has made distinguishing oneself from the competition vital to getting a job or remaining in one position. Jarushub was famous on Nairaland for advising fresh graduates, seasoned professionals, newly employed people who needed counselling on what professional course to take or what kind of company they should be in. The Nigerian need for information regarding careers has led to Jarus Hub becoming a big business venture that has sprung out from Nairaland. Other individuals who made fortunes out of Nairaland include Bimbo Akin-Emmanuel (Inspired Autos) and Akin Alabi, founder of Nairabet.
The Hot Streets of competition
The most popular forum in Nigeria is Nairaland. However, other websites like Bellanaija and LindaIkeji have created niches and are thriving. Linda Ikeji, in particular, used to be a top rival of Nairaland. Unlike Nairaland, Linda Ikeji focused on providing news and not necessarily creating a platform for engagement. Like Nairaland, Linda Ikeji also monetizes through advertisements.
Twitter, a global social network with an easy to use user interface, is gaining ground as the information hub for Nigerians. The microblogging platform limits users to 280 characters per tweet and allows for almost instant virality as the content is bite-sized and can be quickly digested. Twitter is a global networking site compared to Nairaland, which is for Nigerians in Nigeria, and it is multilingual. As Nairaland, one can place an ad on Twitter and promote it to reach a broader audience.
Can Nairaland survive on the Streets?
Statista estimates that 369.8 million visits were made to Nairaland in 2019. Although an impressive number, it is a decline from previous years when visits peaked at 436 million. While there have been complaints about the need for Nairaland founder Seun Osewa to urgently improve the quality of the country's most popular forum, Nairaland is still serving its purpose and could explain why the founder is not interested in change.
Nigerians still visit the forum for the latest news, gossip, and interestingly, Nairaland is where people sometimes confirm certain information's authenticity. Job seekers rely on Nairaland to verify the authenticity of job postings, and the website is said to have helped bring a fraudster, Invictus Obi, to book.
The future of Nairaland looks uncertain!
Although it is an excellent platform for Nigerians to hear from and speak to the streets – Twitter now helps with that more. The core audience of Nairaland, aged 30-45 years old, find that the microblogging site offers the same pulse of the streets and access to global news.
The force of Nairaland is not the content or the UX; it is the audience. If they are not protected and given a reason to stay, and if new demography of users is not acquired, Nairaland's growth may be hampered. It needs to adapt to the changing times.
What's in it for Corporates, SMEs, and the Government?
Nairaland remains a repository of information for the average Nigerian. Its engaging nature and strength of referral are very vital for its audience and stakeholders.
Companies have their recruiting process brought out in the open; Nairaland is the first stop before prospective employees even search the regular "Glassdoor" for companies' reviews. There is an opportunity for companies and recruiting teams to look out for potential recruits and where they need to improve to ensure employee satisfaction. In the same light, a review of products sold, services rendered, and even employees in a company are essential information for companies interested in feedback.
Nairaland could serve as a meeting point for companies or the government regarding sharing information or discussing policies. The government could conduct virtual town hall meetings via Nairaland. The applications of the trove of information Nairaland possess invaluable.
It is up to the founder of Nairaland to decide to look at the bigger picture, make improvements, or still stick with the mantra- if it is not broken, don't fix it.