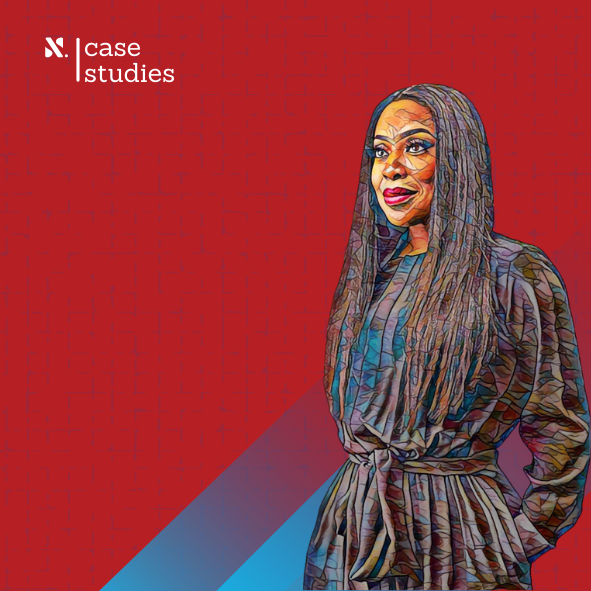 The Phenomenal Mo Abudu and her quest in Nigeria's Entertainment Industry
Breaking glass ceilings is what this Queen of Media does best! Mo Abudu is a filmmaker, content producer, and philanthropist whose net worth is approximately $10.5 million.
But how did it all start?
Born on September 11th, 1964, in West London, United Kingdom, Mosunmola (Mo) Abudu is the eldest of three siblings. She completed her primary and secondary education in the United Kingdom and frequently talked about how she had to defend herself and stand up for her identity and culture in an ignorant environment. At the age of 11, two life-changing events occurred; she lost her father and realised that she needed to be a brand ambassador for Nigeria.
She studied Human Resource Management at the University of Westminster and graduated in 1987. She began work as a Human Resource Professional at the Atlas Recruitment Consultancy firm in the United Kingdom. She then moved to Starform Group, where she was tasked with designing and producing seminars and conferences.
In 1993 she moved back to Nigeria and got a job as the head of Human Resources in ExxonMobile. She frequently speaks about how her almost decade of experience at ExxonMobile taught her about corporate culture and discipline. By 2000, Mo took a substantial financial and career risk by leaving ExxonMobile to start her Human Resource Consultancy firm, Vic Lawrence & Associates Limited, and also opened Protea Hotel Oakwood Park, where she has executive training programs.
Twenty-nine years after realising that she needed to be the brand ambassador for Nigeria, Mo Abudu decided to take another risk. She was tired of having to hear 'ridiculous, ignorant and mind-boggling' questions about Nigeria, tired of afro-pessimism. So she decided it was time to rewrite the African narrative in a new and exciting way. The year she turned 40 years old, Mo Abudu created a platform, Inspire Africa, a daily talk show dedicated to celebrating African culture, the achievements, and the goals of the continent and its people. The Inspire Platform brand is what led to the birth of Moments with Mo, the talk show that catapulted the career and achievements of Mo Abudu.
Now Mo Abudu is the CEO and owner of EbonyLife Media, which encompasses EbonyLife TV, EbonyLife Films, EbonyLife ON, EbonyLife Studios, EbonyLife Productions, and EbonyLife Place.
EbonyLife TV
After creating the Inspire Africa platform, Mo knew she needed to get this on a Pan-African scale; she identified a gap in the market where no Pan-African talk shows existed to change Africa's perception and to create a positive narrative. She approached DSTV with the proposal, and they turned her down, explaining they did not require such Pan-African shows. She did not give up!
In 2006, Mo, now 42 years old, was ready when DSTV put a call out for talk shows. She created five pilots and sent them, all but one were rejected, and she was informed that they would only be buying her content (at an agreed price), and she would need to find sponsors for the show, which she did. The talk show, Moments with Mo is a voice for Africans by Africans, where topics such as lifestyle, politics, culture, health, entertainment, and relationships are discussed. The talk show now has over 37,000 followers on Twitter and 51,000 followers on Facebook.
After much success with Moments with Mo, Mo decided to take it a step further. Driven by her passion for being a brand ambassador for Nigeria, changing Africa's perception and creating a positive narrative, Mo launched EbonyLife TV in 2013. EbonyLife TV is an entertainment and lifestyle network that airs on DSTV (her judges), StarTimes, and airs in more than 50 countries across Africa, the UK, and the Caribbean. In less than one year into operations, the network was ranked in the top 25% tier as one of the most-watched channels on DSTV.
In 2014, EbonyLife TV won the Nigerian Broadcasters Merit Award for Best TV Channel, and in 2016, they won the Nigerian Broadcasters Merit Award for TV Channel with the best imaging. There are over 33,000 followers of EbonyLife TV on Twitter, over 169,000 followers on Instagram, and over 95,000 followers on Facebook.
EbonyLife Films
In 2014, a year after EbonyLife TV's launch, Mo Abudu launched EbonyLife Films, a production company to help amplify Africans' voices and narratives. Since its launch, almost every year, EbonyLife Films has produced another blockbuster that breaks records. In 2015, they produced a film Fifty, which became the highest-grossing drama and number #1 film in Nigeria 2015 and was selected to screen at the 59th BFI London Film Festival. The film was acquired by the global streaming entertainment service provider Netflix in 2015.
In 2016, they produced the film Wedding Party, which went on to be the highest-grossing film ever in the Nigerian box office and was premiered at the Toronto International Film Festival in 2015. The sequel, Wedding Party 2: Destination Dubai produced in 2017, performed better than its prequel, taking over as the highest-grossing film in the Nigerian box office. In the same year, EnonyLife produced the Royal Hibiscus Hotel, one of 3 African features to be selected amongst the 48 best new films globally. Royal Hibiscus also screened at Toronto International Film Festival and was licensed by Amazon Prime.
The following year building on the wave of previous successes, EbonyLife Films released Chief Daddy, quickly becoming the number #1 Nollywood film of 2018 and the third-highest-grossing Nigerian film. Your Excellency, released in 2019, grossed over ₦17 million in 2 days and became the fourth highest-grossing Nollywood film of the year. Deviating from its typical ensemble cast comedic films, EbomyLife released Oluture on Netflix Nigeria in October 2020. Based on the real experiences of an undercover journalist investigating prostitution rings in the country, the movie was earlier scheduled for theatre release was delayed due to the COVID 19 pandemic. 
One of Mo's success secrets is her ability to build strong partnerships that have helped amplify African voices and stories outside of the continent. Since 2015, Netflix has been purchasing the license to her productions and showing them globally. In 2018, Mo partnered with Sony Pictures Television, an American production and distribution studio; they signed a 3-year deal that included EbonyLife Film to co-produce The Dahomey Warriors, a film about legendary female Amazons who took on French colonialists in West Africa.
In 2019, AMC Networks, an American production and distribution company, announced a partnership with EbonyLife Films to produce an afro-futurist crime drama. And the most significant and impactful collaboration is the one she signed in 2020 with Netflix to produce multiple branded films and two original series. Another record was broken, and history is being made again with EbonyLife Films as this is the first multiple deal partnership Netflix has signed with an African production company[33]. EbonyLife Films has over 89,000 followers on Instagram, 62,000 Facebook likes, 6,000 followers on Twitter.
EbonyLife ON
In 2018, Mo launched EbonyLife ON, a subscription-based video on demand platform where users can access the app or website to EbonyLife and non EbonyLife African content – movies, series, documentaries, and TV shows. Subscription is offered monthly for $2.99 as well as annually for $24.99. This platform is intended to make it easier for people to access African content from across the continent. Mo has also announced that as of July 2020, the network EbonyLife TV will no longer be on DSTV but will be housed on the EbonyLife ON platform, so users can access content whenever and not programmed scheduling as it was on DSTV[36].
There are currently 7,454 followers of EbonyLife ON on Instagram and 883 followers on Twitter. EbonyLife TV's transfer from DSTV to EbonyLife ON, the EbonyLife ON platform, might increase users and followership. EbonyLife ON competes with Irokotv, Netflix Nigeria, Showmax, and other independent platforms like LindaIkeji TV.
Ebony Life ON falls behind its main competitors in terms of content and exclusivity. Almost all original content on EbonyLife ON, except the talk shows, is also available on Netflix, and other non-original content can be found on Irokotv or Youtube.  Irokotv, the pioneer company in this category, outshines EbonyLife ON, having an arsenal of more than 5,000 movies & TV shows in its repertoire. Smaller independent competitors like Linda Ikeji TV differentiates themselves by providing exclusive reality-TV content.
EbonyLife Studios
EbonyLife Studios is where the magic happens. The recording and production of over 5,000 hours of programming and seven feature films for EbonyLife happen.
EbonyLife Productions (UK)
EbonyLife Productions (UK) was registered in 2018 in the United Kingdom of Great Britain and Northern Ireland. Although the company is currently active, we have not heard nor seen any productions from them, which hints at something being cooked up for the future.
EbonyLife Place
EbonyLife Place is the newest member of the EbonyLife Family; the multi-billion naira luxury and entertainment resort in the heart of Victoria Island was opened on December 8th, 2019, during the premiere of the film Your Excellency. It features a 20 room boutique hotel (The White Orchid), three restaurants (Popina, Turaka Rooftop, Wrap Pool Bar & Restaurant), an event hall (The Victoria Hall), and five luxury screening rooms. There are currently 6,472 followers of EbonyLife Place on Instagram and 226 followers on Twitter.
 Unfortunately, soon after its launch, the global COVID-19 pandemic hit. With the global lockdowns causing a drastic reduction in revenue in the entertainment and hospitality industries worldwide, including Nigeria, the growth of EbonyLife place was less than expected. The target market for EbonyLife Place is also more niche than the mass market for EbonyLife Flims, and it operates in a more competitive market requiring more concerted efforts to capture market share post-pandemic.
While EbonyLife ON and EbonyLife Place might not be as commercially successful yet, Mo Abudu is one of Africa's most successful entertainment entrepreneurs.  Listed in 2013 and 2017 in the Hollywood Reporter's 25 Most Powerful Women in Global Television and named by Powerful Media as one f the United Kingdom's top 100 most influential people of African and Caribbean heritage; Mo Abudu's influence as an entertainment mogul is recognised globally.  
She received an Honorary Doctor of Arts from the University of Westminster in 2018. She was appointed as a Director by the International Academy of Television Arts, and Science appointed in the same year, joining a list of moguls tasked with 'recognising excellence in television produced outside the United States. 
In 2019, she was appointed the chairperson for the 47th International Emmy Awards Gala. At the 2019 Marche International des Programmes de Television in Cannes, she was awarded the Médailles d'Honneur (Medal of Honour). By the following year, she wrote to the Academy Awards (Oscars) to allow Nigerian movies with pidgin English a chance to be nominated in the International Feature Film category at the Oscars. The Academy approved her justifications and granted her request, a big win for Mo and a more significant victory for the industry.
Mo Abudu attributes her success to
Clarity of vision
An excellent team
Networking and attending global industry events to pitch her ideas
Perseverance 
Faith
Referred to as Africa's own Oprah Winfrey in the early days, Mo Abudu is charting her own course and rewriting the African narrative in a contemporary way.